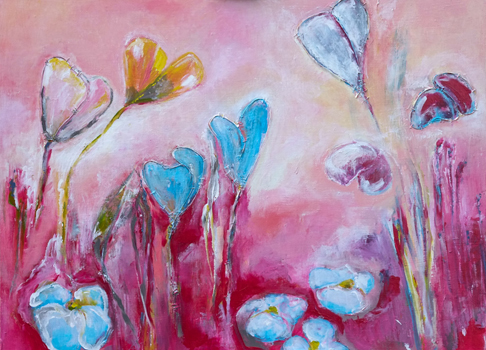 Please respect artist copyright. © Hela Donela
In Anton Chekhov's short novel THE BLACK MONK, a young academic is on the brink of a nervous breakdown due to simple exhaustion. He seeks recovery at his former guardian's (Mr Pesotsky) country house which is surrounded by most glorious gardens.
I was reading the book and felt an urge to paint. PESOTSKY'S GARDEN.
Quite a bit of metal wire and finger painted (about 90%, as in the beginning I was using the brush for the first two base layers). Painted outdoors on a South Coast Winery breathing crisp, fresh, wintery air and sampling the local wine (why – it would have been impolite NOT to do so!). Not quite "en plain air" as I seldom paint what my physical eyes see at that moment, but what my eyes may have seen before and what the eyes of my soul see and feel at that particular time.
PESTSKY'S GARDEN
MAY 2015
Acrylic and metal wire & staples on recycled canvas on board
approx size 90cm x 122cm
notes: professionally framed in reverse box frame