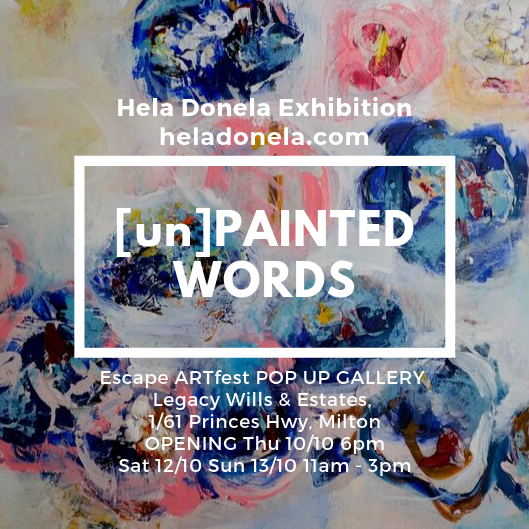 OCT 2019 Art Festival Pop Up Gallery and Live Painting Demonstrations
Escape ARTFest Milton, New South Wales, Australia
I will be having a little pop up exhibition as part of the Escape ARTfest Gallery Walk in Milton. I would love you to come!
OPENING NIGHT: Thursday 10th of October from 6 to 8pm.
ALSO OPEN: Saturday and Sunday (12th and 13th of October) from 11am to 3pm.
More info on Escape ARTfest on their website https://www.escapeartfest.com.au/
[un]PAINTED WORDS will be an interactive exhibition / weekend. All works, old and new, connect strongly to the theme. Some have been born from a poem. Others have words woven onto the surface of the painting.
I will be there on the opening night as well as on Saturday and Sunday, when I plan to be painting. I welcome a chat if you feel like one.
Most paintings will be available for sale. However, my main reason for taking part in the artfest this year is simply for the love of promoting arts in our area – not as a commercial means, but something to be shared, to be experienced by eyes and the soul.