My favourite place to hold an exhibition, so far, must be the Balmain Watch House.
Ever since I first visited this amazing historical building I have been in awe of it… and strongly believe that my art "belongs" there.
THUS… an annual exhibition must take place.
ANNOUNCING & INVITING YOU TO THE OPENING: TOUCH by Hela Donela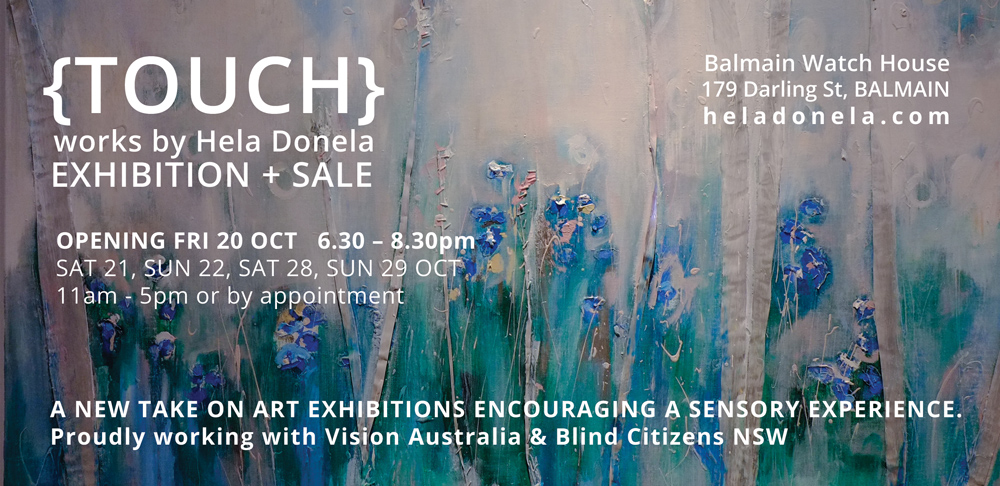 TOUCH is a different kind of exhibition. Not one where you secretly reach out to feel the surface of a painting just to have a faint idea how the artist might have felt… No. During TOUCH I INVITE the viewers to experience a selection of exhibited paintings with careful physical touch.
My work is born from moments of life that TOUCH me. …and through a process of simple meditation these moments are transferred onto the canvas. NOTHING satisfies me more than when the viewer connects with my paintings: is touched by them.
Therefore… why not invite the audience to touch? Especially so as my works are rough and carry many scars and stories from often almost violent methods of painting…
Besides… is it not TIME to invite the ones in our society that SEE WITH THEIR HANDS to be part of art exhibitions and events as well? And for this purpose I have been closely working together with Vision Australia and Blind Citizens NSW to make this exhibion welcome the ones seeing with their eyes as well as with their fingers.
This is what TOUCH IS ABOUT. Opening ourselves to f-e-e-l.
Put on the head phones and hear the music that inspired the piece. Look. Close your eyes and now look again: but this time using only your hands. Read the words (in type or braille on gallery cards) or hear the poetry as read by the artist… and open yourself to a new interpretation, a new angle.
I will be there from OPEN to CLOSE every day and look forward to talking to you, to guiding you, to sharing with you moments that only art can create.
TOUCH
179 Darling Street Balmain
Opening Friday 20, 6.30 – 8.30pm, all welcome
October Saturday 21, Sunday 22, Saturday 28 and Sunday 29, 11am to 5pm
From Balmain Association's website (http://www.balmainassociation.org.au/exhibitions/):
"South Coast artist Hela Donela comes back to Balmain with her third annual exhibition at the Watch House.
The exhibition explores the theme of TOUCH from various aspects.
Hela absorbs simple moments of life: beautiful and painful and processes them into paintings. Through her paintings Hela calls the viewer to take a moment in a hectic world – to pause, feel and to allow them to touch the viewer emotionally.
Hela's works and the use of metal wire or egg shells as well as the textured nature of the paintings, call the viewer to touch. During the exhibition Hela opens selected paintings to careful touch by the viewer. She encourages a new and sensory approach to experiencing visual art : through vision, sound, words AND feeling the painting with touch.
Hela will be available to share the stories and discuss her paintings. This exhibition is one not to miss. Her previous exhibitions a the Balmain Watch House were a great success attracting local and visiting audiences and selling a large number of paintings.
heladonela.com"